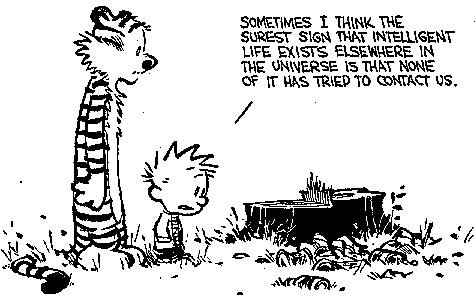 Calvin and Hobbes by Bill Watterson
9 Comments »
i love it. its so very true.

Im glad that you like it Gillyis

I love it too. Though there is overwhelming evidence we are being visited on a frequent basis, it still made me laugh!

[…] 2. Signs of Extra-Terrestrial Life […]

I like as well, but i think gilly-is a moron. "so very true"? what a tool.

Im glad that you like it supertramp, but I do not applaud calling people names .. Gilly is entitled to an opinion as well

[…] the read this blog and lots of Calvin and Hobbes cause Bill Watterson, said this message ages ago! Via I believe in advertising var […]

I love calvin and hobbes! and it's so very true!!

I think the tool here is the person who said there is "overwhelming evidence" of frequent extraterrestrial visitation, but no one batted an eye at that.
RSS feed for comments on this post. TrackBack URI
Leave a comment